long range bullet is:

A web site intended to cover as many aspect of artists Jun Tsukasa [Tsukasa Bullet] and Range Murata that is possible. Presented on this site is information about the artists themselves and their artwork: doujinshi, professional art books, officially licensed work, etc.

Though it is nearly impossible to collect wholly accurate and complete information on every single piece of Murata and Tsukasa-related work, we will contine to provide info. for anything and everything that is within our knowledge. Additionally, some items are hardly worth the trouble to catalog, such as every magazine cover Murata has ever done. This is because the information out there is just extremely limited.

Essentially, we hope to improve on the sheer lack of English resources on either artist through the construction of this site.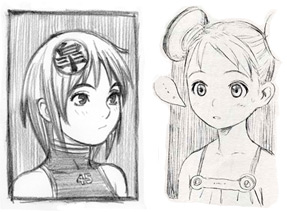 [This site is maintained by...]


jiji

...really likes Tsukasa's proportions.

[Site:

namako team

.]
• • •
Please refer to:
[lrb Update Archive]
for history of updates and news items.
• • •
[Contact information:]
For questions, comments, suggestions, and contributions, please use the following e-mail adress:

• longrangebullet[at]gmail[dot]com •
©2006. JIJI/CLICK_STICK PRODUCTIONS, LTD.
All copyrights and trademarks are the property of their respective owners.
Best viewed in 800x600+. Contact: longrangebullet@gmail.com