futurhythm [2nd Drawing Works Limited Edition]
120 pp, B4 size, ¥9500
©2003, WANIMAGAZINE Co., Ltd.
By: Range Murata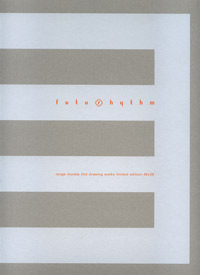 Description: futurhythm is Range Murata's second major professional release with a very unique presentation; the book is actually a binder with completely removeable artwork and illustrations printed on heavy stock paper.
Details: Easily the most striking aspect of the book is its clever presentation: the individual pages are snapped into a metal binder and these heavy grade paper sheets can be re-arraganged and re-organized in any fashion. A protective plastic sleeve slides over the binder to protect it from damage. The book is massive in size, including 50 single-sided color illustrations, 20 double-sided pages of "4d works" drawings, and many other pieces from Murata's collection. The book also includes a large-sized poster and an After Service calendar with sketches created for Kairakuten magazine and detailed notes from Murata.
The overall quality of this book is astounding, and well worth the price if you have any interest in Murata. The only downside is that the punch-holes are bound to become slightly worn after flipping through the book time and time.
Statistics:
50 pages, single-sided color illustrations
20 pages, double-sided "4d works" illustrations
After Service calendar: June, 1997 - May, 2001
Reprint of "egg story" strip
WANI discography
Full size poster image
& more.
.